News & Quick Links
David J. Lieske, Ph.D.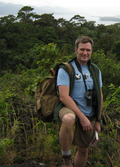 David J. Lieske is an Associate Professor in the Department of Geography and Environment, and is the Director of the Mount Allison University Geospatial Modelling Lab (GML).

His research expertise encompasses spatial statistical modelling, geographic information systems (GIS), and geovisualization. David is particularly interested in the application of these methods to assist environmental monitoring, mapping and conservation planning.

David is also the author of the Tantramar Community Adaptation Viewer (TCAV), a web-based decision support toolkit for viewing community flood risk vulnerability.

Link to David's Workshop on the R Statistical Package: click here

His contact information is as follows:


David J. Lieske
Assoc. Professor
Dept. of Geography
and Environment,
Mount Allison
University
144 Main Street,
Sackville, NB,
Canada
Tel: 506-364-2315
Fax: 506-364-2625
dlieske@mta.ca





Are you interested in pursuing research in the GML Lab?
Click here for more information
Present (and Past) GML Research Students and Associates
Connor Nickel (Honours, 2019-2020), Project: "An Analysis of Elk (Cervus elaphus Railway Usage Following Highway Wildlife Mitigation Near Burwash Ontario"
Nick Saucier (Honours, 2019-2020), Project: "GIS-Based Accumulation Model of Microplastics in the Saint John River Watershed"
Morgan Bender (Research Assistant, 2019), Project: "Mount Allison University Seabird Viewer"
Laura Penney (Honours, 2018-2019), Project: "Using Machine Learning to Assess Interactions Between Forage Fisheries and Upper Trophic-level Marine Species: A Case Example with Northern Gannet"
Anna Jamieson (Honours, 2017-2018), Project: "Assessing Awareness of Ticks and Lyme Disease and the Impact of Geospatial Visualization on Public Perception of Risk"
Jessie McIntyre (Honours, 2017-2018), Project: "Whimbrel (Numenius phaeopus) Stopover on the Acadian Peninsula, NB: An Application of Habitat Classification using Remote Sensing"
Leah Rudderham (2017), Project: "Land Use and Water Quality in the Northumberland Strait"
Jacob Demers (2017), Project: "Human Land Use along the Richibucto River: a Spatial Analysis of Distribution and Significance"
Laura Penney (2017), Project: "Effective Communication of Flood Risk using the Tools of Geovisualizations: a Case Study from Dorchester, NB"
Caitlin Brawn (Honours, 2016-2017), Project: "Modelling Fishing Vessels Traffic in Atlantic Canada Using Machine Learning Regression Tree Modelling"
Jeremy Dussault (Honours, 2016-2016), Project: "GIS Assessment of the Risks Posed by Coastal Light Pollution for Seabirds Nesting in Atlantic Canada"
Cullen Mulroy (Honours, 2015-2016), Project: "Assessing the Coastal Flood Risk for the Community of Port Elgin, New Brunswick"
Megan MacIntosh (M.Sc., 2015), Project: "The Effect of Landuse on Waterfowl Habitat Quality in an Agricultural Region of Atlantic Canada"
Matthew Mahoney (M.Sc., 2015), Project: "Assessing Short Term Coastal Dynamics to Predict Impacts from Severe Weather Events on Piping Plover"
Laura Salisbury (Honours, 2011-2012), Project: Flood-risk Visualization
Keegan Smith (Honours, 2011-2012), Project: Applications of Lidar to Forest Classification
Man-Sing Kwan (2010), Project: Maritime Wind Atlas
Neil Gouder (2010), Project: Maritime Wind Atlas
Lindsay Laltoo (2010), Project: Black Duck Habitat Use and Visualization
Alicia Daniel (2010), Project: Town of Sackville Policing Survey
Courtney Morrison (2009-2010), Project: Fundy Biosphere Reserve Mapping
Jeffrey Thomas (2009), Project: Black Duck Habitat Use and Visualization
Alex Miller (2008, Science Horizons Student Intern), Project: Aerial Surveillance of Marine Oil Pollution
Mr. James Bornemann (GIS/Geomatics Analyst, Researcher)
Ms. Lori-Ann Roness (Researcher)
Mr. Jeffrey Wilson (Vice-President Green Analytics, http://www.greenanalytics.ca)
Emily Phillips (Mt. Allison M.Sc., Researcher)
Home