News & Quick Links
David J. Lieske, Ph.D.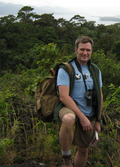 David J. Lieske is an Associate Professor in the Department of Geography and Environment, and is the Director of the Mount Allison University Geospatial Modelling Lab (GML).

His research expertise encompasses spatial statistical modelling, geographic information systems (GIS), and geovisualization. David is particularly interested in the application of these methods to assist environmental monitoring, mapping and conservation planning.

David is also the author of the Tantramar Community Adaptation Viewer (TCAV), a web-based decision support toolkit for viewing community flood risk vulnerability.

Link to David's Workshop on the R Statistical Package: click here

His contact information is as follows:


David J. Lieske
Assoc. Professor
Dept. of Geography
and Environment,
Mount Allison
University
144 Main Street,
Sackville, NB,
Canada
Tel: 506-364-2315
Fax: 506-364-2625
dlieske@mta.ca





How Can I Pursue an Honours Thesis in the GML?

An Honours Thesis is an excellent opportunity to explore a research topic in depth, to make a contribution to human knowledge, and to really hone your verbal and written communication skills.

Completing an honour's thesis prepares you for anything, whether it be graduate school; designing a research study, gathering information, and conducting an analysis; or speaking on a stage or in a boardroom. It will make you a better thinker, and a better communicator.

An Honours thesis is a significant commitment, however - both for you, the student, as well as your faculty supervisor. To pursue an Honours project in the GML you need to be able to fulfill the following criteria:

A term/session (e.g., year #3) GPA of 3.2 or higher.


Interest in and good performance (B+) in the department's GIS course (GENS 2441).


Interest in completing a project with a significant spatial focus, including, but not limited to:



Species distribution modelling, i.e., modelling the relationships between the geographical occurrence of a species, and the key environmental factors to which it responds (e.g., habitat, climate).
Land cover classification, land cover analysis.
Spatial statistics, e.g., hotspot analysis, spatial predictive modelling
Development of special visualizations for exploring relationships in time and space.
Assessing how people perceive and interpret spatial information.
Geocomputing, e.g., web mapping or custom development of a geoprocessing tool.
Risk mapping, e.g., pollution risk.
Home